Painted Faces Release Day!!
Hello friends!
Today I'm releasing my first ever contemporary romance novel,
Painted Faces
. I'm nervous and excited and I really hope that the people who end up giving it a chance will enjoy it, because it really is my little precious baby right now. Anyway, I'm steeling myself and putting it out there.
Hopefully you will love the characters like I love them. I'm publishing this book not only in ebook format this time around, but also in paperback (which will probably take another week or two to become available) Preparing a book for print publication is ten times more confusing than ebooks, but I'm getting there, I promise. Below is the paperback cover, if you care to give it a gander.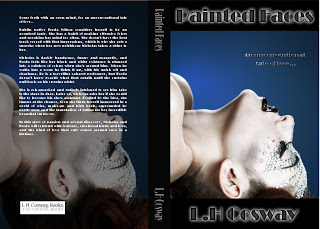 If you'd like to be in with a chance of winning a paperback copy, I'm doing a giveaway on Goodreads, which you can enter here.

So, what's it all about I hear you ask? Here's the synopsis to give you an idea.

Come forth with an open mind, for an unconventional tale of love..
Dublin native Freda Wilson considers herself to be an acquired taste. She has a habit of making offensive jokes and speaking her mind too often. She doesn't have the best track record with first impressions, which is why she gets a surprise when her new neighbour Nicholas takes a shine to her.
Nicholas is darkly handsome, funny and magnetic, and Freda feels like her black and white existence is plunged into a rainbow of colour when she's around him. When he walks into a room he lights it up, with his quick wit and charisma. He is a travelling cabaret performer, but Freda doesn't know exactly what that entails until the curtains pull back on his opening night.
She is gob-smacked and entirely intrigued to see him take to the stage in drag. Later on, Nicholas asks her if she would like to become his show assistant. Excited by the idea, she jumps at the chance. Soon she finds herself immersed in a world of wigs, make-up and high heels, surrounded by pretty men and the temptation of falling for her incredibly beautiful employer.
In this story of passion and sexual discovery, Nicholas and Freda will contend with jealousy, emotional highs and lows, and the kind of love that only comes around once in a lifetime.
In essence, it's not your typical romance starring a gruff manly man, but it's not completely out there either. For anyone who's read my previous books, this one's a little more explicit. Ahem. But explicit in a normal sort of a way, rather than a makes-you-slightly-uncomfortable-and-ill sort of a way. I don't know why I feel the need to explain these things, I'm just quite bashful and I don't want people who are fans of my Florence books to suddenly get a shock, lol.

Well then, now for some links, for those of you who are feeling interested enough to purchase the book;-)

Also, before I go, I got an email yesterday morning from two lovely lady book bloggers who liked the book so much that one of them decided to make a little trailer for it. It put a happy smile on my face, as no one's ever done this for my books before (as far as I know). So thank you to Juls and Jen. Take a look...
I love how she used "Your Song" by Elton John as the music, as it features in the book.
Bye and thanks for reading:-)