Tegan's Return Release and Tegan's Blood Giveaway!
Hello all!
Book Two in the Ultimate Power Series, Tegan's Return, is now available. Have a look at the cover and synopsis below...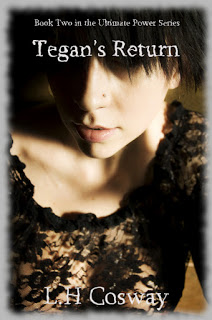 Tegan always knew that she couldn't remain hidden forever, she left Tribane to escape the danger posed to her by the supernatural creatures who dwell there, but every day she has mourned the friends and family she had to leave behind. It's been two years, but Tegan struggles on with the new lonely life she has built for herself. She might crave human companionship, but at least she's still alive.

Unfortunately, all of her hard work in running away comes crashing down around her when a familiar face comes strolling into her new place of work one night. She considers leaving and starting over again, but this old acquaintance has a proposition for her, one that will see her returning to Tribane and fighting to rescue a little girl who has been kidnapped. 

Tegan feels for the child, but her heart is also swelling at the idea of going home to see the people she has missed the most. Can she kill two birds with one stone? Finally she decides that she will return, but what she finds on her arrival is that her father has gone missing, not to mention there has been an almighty war between the two opposing sides of the city.

Throw into this her mixed emotions at seeing beautiful Ethan again, and there is a whole lot of confusion going on. Tegan finds herself playing the role of a spy, as she tries to find information as to the whereabouts of her father and the girl. Even though she is supposed to be pretending, she can't help that she is falling for Ethan all over again, and if he discovers her true intentions for coming back then he might just hate her forever.
So, to celebrate the release I'm doing a three day giveaway of Tegan's Blood on Amazon to promote the sequel. If you haven't read it yet and are interested in stories about vampires, slayers and witches with a good dose of romance then you might really enjoy it. All you have to do is click on the link and download it completely free.
Also, I'm going to be giving a limited number of copies of
Tegan's Return
away to those who send an email telling me why they want to read the book to lhcosway@gmail.com. Any reason will do:)
I started writing this book around Christmas time last year, which explains why the story is set in December. Still, the fact that I finished it at all in the space of a few months surprises me. I'm a terrible procrastinator, and a lot of the time I'll do anything other than what I'm supposed to be doing. In other words, writing. I think the decision to publish Tegan's Blood is what gave me the willpower to keep going and get this one finished. The fact that people expressed an interest in wanting to read another book about Tegan and Co. made me ever more determined to create one.
There's certainly something to be said for writing a book all in one go without any big gaps between writing periods. I found it easier to keep all of the details in my head and the continuity flowed better. At least it did for me:-) Each chapter of Tegan's Return is named after a song title or lyric. I started doing this unconsciously with certain chapters when I wrote the first book, and so I decided it might be a good idea to use for the second.
The synopsis should give you a fair idea of what the book is about. There are a couple of new characters in the mix as well as most of those first encountered in Tegan's Blood. Anyway, I'll leave you with the song I named the first chapter after, "This Town Ain't Big Enough for the Both of Us" by Sparks.The excitement and sound of this song is definitely a great way to kick off any story. Also, the keyboard player fascinates me. And just look at the rig out on the lead singer, Karen Carpenter would have been proud. Needless to say, my obsession with the keyboard player, who is in fact the brother of the lead singer, led me to speculate as to why he acts so strangely onstage. Here are my theories: One, he hates his brother because he's so hyperactive and in your face and has a secret desire to brutally murder him. Two, he's incredibly socially phobic and is actually in agony when he performs. There's a moment around 01.39 where he pulls a face that makes me think he's uncomfortable. Three, he gets a perverse satisfaction from creeping people out. I have a very active imagination. In fact, I'd be pleased if it were a combination of all three. Anyway, enough of that tangent.
Enjoy the song. And the book. Until next time.