Aloha!
This post is coming to you a day or so late. Blogger was acting up for some reason *bewildered face*

Anyhooo, my new new adult romance novel (I know, too many new's) The Nature of Cruelty is now available on Amazon and Smashwords. <- links. I had all my ducks in a row so I put it up a few days early – tomorrow is the official release.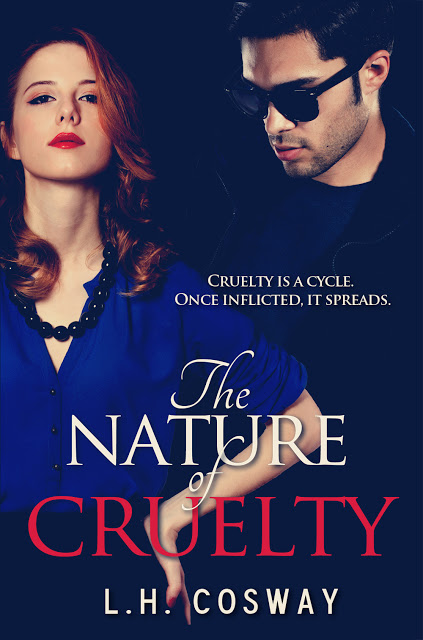 It's been out two days and this has by far been my most successful release, so I'd like to thank everyone who bought it for your support! You made this little Irish writer very happy. If you are a nook user there will be a wait of a couple of weeks for it to appear on Barnes & Noble. It's rubbish, I know, but that's just the way they operate.
The blog tour hosted by Romantic Book Affairs actually started yesterday over at the wonderful Under the Covers book blog, and today's stop is at Kindlehooked where you will find an excerpt and a chance to win a copy. The rest of the tour will stop off at the following places:
FRIDAY, JUNE 28TH
Romantic Book Affairs
MONDAY, JULY 1ST
My Book Muse
Fiction Vixen
TUESDAY, JULY 2ND
The Boyfriend Bookmark
The Demon Librarian
WEDNESDAY, JULY 3RD
Sugar and Spice Book Reviews
Sinfully Sexy Book Reviews
THURSDAY, JULY 4TH
Take Supe
Swept Away by Romance
Babbling About Books and More
FRIDAY, JULY 5TH
Shh Moms Reading
Reality Bites! Lets Get Lost!
Book Crush
All stops have a rafflecopter giveway to win copies of the book and will feature either reviews, excerpts, guest posts, playlists or interviews, so be sure to check them out.
So, what's next for me book-writing wise? Well, I'm taking a couple weeks off to refresh my batteries, then I'll be back writing again. I have the final Tegan novel to complete before the end of the year. I also have another romance novel partway completed that I want to finish at some stage. It's about a living statue (I am obsessed with them). Fun fact: I actually planned on becoming one for a job when I was younger, but that's a story for another day 😉 And last but not least, I will be writing the final installment in my Florence Vaine trilogy.
Before I go, I'll leave you with a little visual treat. Anyone who's read The Nature of Cruelty will know that Robert's a complex, flawed and at times disturbed individual. However, he is quite pretty to look at…