Six of Hearts
Step right up and meet Jay Fields: Illusionist. Mentalist. Trickster.
I think in triangles. You think in straight lines.
I show you a table and make you believe it's a chair.
Smoke and mirrors, sleight of hand, misdirection. I trick and deceive.
But most of all, I put on a good show.
The world thinks I killed a man, but I didn't. Bear with me. It's all a part of the plan.
Revenge is what I want. I want it for me and I want it for her.
I want it for all six of us.
Narrated by Donna Kelly.

Purchase Six of Hearts
---
The Hooker & the Hermit
New York's Finest
Blogging as *The Socialmedialite*
April 22
LADIES AND GENTS! I have an announcement!
You know that guy I featured on my blog a few months ago? The really, really hot Irish rugby player who plays the position of 'hooker' in the RLI (Rugby League International)? The one with the anger management issues, the body of a gladiator and the face of a movie star? The one with the questionable fashion choices leading me to ask whether he was the lovechild of a leprechaun and a hobbit? Ronan Fitzpatrick? Yeah, that guy.
Well, I have a confession to make…
Narrated by George Allen & Lucy Rivers.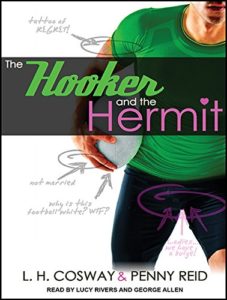 Purchase The Hermit & the Hooker
---
The Player and the Pixie
How can someone so smokin' hot be so bad in bed? I mean, Sean Cassidy is absolute rubbish. RUBBISH. He is the epitome of walking, talking false advertising and I want a refund! Plus he's an arsehole. So… what is wrong with me that I can't stop thinking about him?
THE PIXIE
Lucy Fitzpatrick doesn't like rugby.
As the little sister of Ireland's most infamous rugby player, Lucy can't seem to escape the championship-sized shadow cast by her big brother, or her mother's frequent attempts to micromanage her future. Her rainbow hair is as free-spirited as her quest for inner peace, yet overbearing expectations keep bringing her down. And when she's down, her compulsive little problem lands her in seriously big trouble.
THE PLAYER
Sean Cassidy is a cold-hearted brute… or so he's been told. Frequently. By everyone.
His blonde locks, baby blues, and rock hard bod make ladies the world over drool with desire. As the rugby world's second most infamous player, he should be basking in his success. But Sean has never been content settling for second place, and his frequent confrontations with Lucy's big brother leave him cold. And when he's cold, his compulsive little problem lands him in the lap of Lucy Fitzpatrick.
THE PLAN
Sean has a problem only Lucy can solve. Lucy has a problem only Sean can fix. The solution seems obvious: you scratch my back, and I'll bail you out of jail. But when their business arrangement unexpectedly leaves Sean scorching hot and Lucy on the precipice of inner peace, can they convince the world—and Lucy's big brother in particular—that this is the real deal?
Either way, both the Player and the Pixie are about to teach each other some pretty monumental lessons about family, life, but most importantly, love.
Narrated by George Allen & K.C. Sheridan.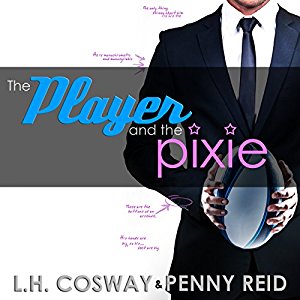 Purchase The Player and the Pixie
---
The Cad and the Co-Ed
Keeping a secret this big is going to take lots of balls. Specifically, rugby balls.
THE CAD
Bryan Leech is a cad.
Or, he was a cad.
No one is quite certain.
Once the quintessential playboy, Bryan claims he's done with wild parties and weekend benders. No more one night stands leading to mornings he can't remember; no more binges and blackouts; no more exploits plastered all over the tabloids and rag sheets. According to Bryan, he's cleaning up his act.
The only problem is, no one believes him.
THE CO-ED
Eilish Cassidy never thought she'd be a mother at nineteen or still in college at twenty-four. Cut off from every member of her family except her favorite cousin, she's finally managed put her life back together. Stronger and wiser, Eilish enters her last semester of university determined to stand on her own. Now she just needs to find an internship.
The only problem is, her best option—by far—places her directly in the path of her son's father, and he doesn't remember her at all.
THE PLAN
Bryan is determined to prove he's changed. Eager to settle down with the right woman, he's got his sights set on the gorgeous redhead who seems terribly familiar.
Eilish is determined to hide her secret. She'll do anything to keep her child safe, even if that means ignoring her own wishes and desires.
But what happens when Bryan starts to remember? And what will it take for Bryan to convince the girl he forgot that she's unforgettable?
Narrated by George Allen & K.C. Sheridan.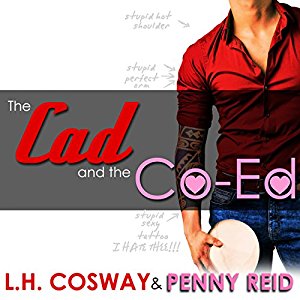 Purchase The Cad and the Co-Ed
---
Painted Faces
Come forth with an open mind, for an unconventional tale of love..
Dublin native Freda Wilson considers herself to be an acquired taste. She has a habit of making offensive jokes and speaking her mind too often. She doesn't have the best track record with first impressions, which is why she gets a surprise when her new neighbour Nicholas takes a shine to her.
Nicholas is darkly handsome, funny and magnetic, and Freda feels like her black and white existence is plunged into a rainbow of colour when she's around him. When he walks into a room he lights it up, with his quick wit and charisma. He is a travelling cabaret performer, but Freda doesn't know exactly what that entails until the curtains pull back on his opening night.
Narrated by Ali Coffey.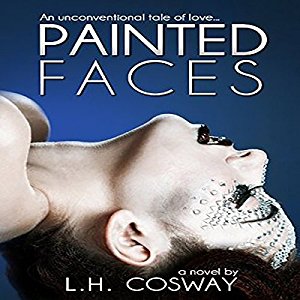 Purchase Painted Faces